Themed "Joy" this Christmas, 1 Utama is welcoming shoppers to the yuletide season with a charming Christmas Village set in the countryside surrounded by festive shops in rustic cottages from 25 November to 28 December 2021.
To enter this magical realm, visitors can take in the lush scenery by setting foot on the cobbled stone pathway at LG Oval concourse and stroll through a grove of trees leading up to a dazzling 3-storeys high (50ft) Christmas Tree centrepiece, lavishly decorated with scarlet poinsettia flowers.
Amidst a classic red-and-gold palette, Nordic reindeers greet visitors to celebrate this heartwarming season together while shoppers get to carry out delightful holiday shopping, watch entertaining performances like caroling and musicals and also partake in an outdoor Christmas Market at Estreet from 11 to 22 December.
1 UTAMA E (3pm – 9pm, 11 – 22 Dec)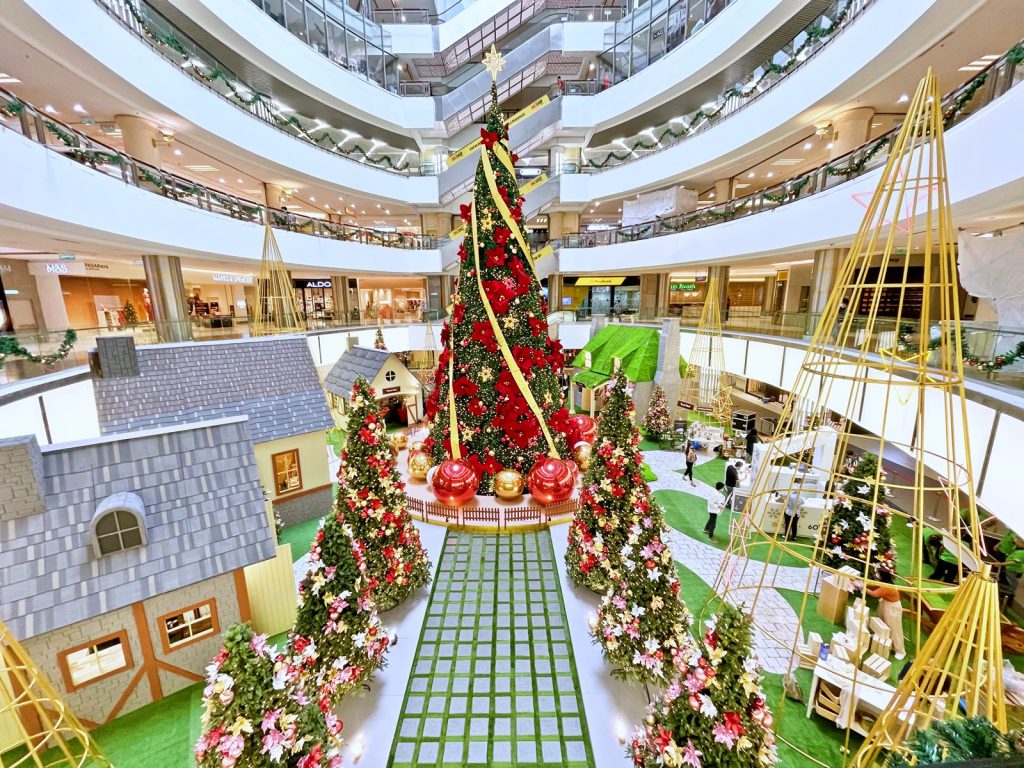 Experience a unique 'street shopping' experience under the stars at 1 Utama's 10-day Christmas Market located at its newest alfresco food street Estreet in the mall's newest entertainment wing 1 Utama E.
Shop from a line-up of 30 Christmas stalls and savour traditional delicious fares like roast turkey, lasagna, quiche, and cakes, whilst picking up freshly baked artisan sourdough bread, macarons, and a tempting variety of handcrafted gifts and accessories for the entire family.
Visitors can look out for beautifully made scented candles, aromatic essential oils, and even drop by for a Tarot card reading session.
JOLLY TREATS (29 Nov – 28 Dec)
Christmas shopping is more rewarding with 1 Utama – take home Jolly Treats ranging from 1 Utama's desktop calendar, exclusively designed mugs, bags, serving dish/dessert plate sets, and even a La gourmet breadmaker
*Gift collection locations: GF Rainforest Bargain Corner and 1st Floor Centre Court (next to Jardin  Coffee). Maximum 2 cumulative receipts from any ONECARD participating outlet dated on the same day, with receipt submission through 1 Utama's Mobile App, other T&C's apply.  
1 Utama 2022 Calendar with RM150 spend  
Jolly Stainless Steel Mug with RM500 spend (RM300 for ONECARD members)
Jolly Tote Bag with RM800 spend (RM600 for ONECARD members)  
Jolly Serving Dish Set OR RM50 ONECARD Shopping Voucher with RM1,200 spend  (RM1,000 for ONECARD member) 
Jolly Dessert Plate Set with RM2,200 spend (RM2,000 for ONECARD member)
La gourmet Healthy Bread Maker with RM8,000 spend 
Christmas Promotions
ONESHOP's A Holly Jolly Christmas (30 Nov – 27 Dec) – Enjoy four weeks of surprise and mystery gifts with RM100 spend and above by applying weekly promo codes.
1PAY Shake Rewards (1 Dec 2021 – 1 Jan 2022) – Spend any amount with 1PAY Scan & Pay to  play a fun in-app game on 1 Utama's Mobile  App and receive random cashback. 
ONECARD Christmas Gift Card & e-Gift Card (1 Dec 2021 – 1 Jan 2022) – Grab a FREE  luggage bag with purchases of RM800  ONECARD gift cards or collect a RM10 cash  rebate for RM200 Christmas e-Gift Card  purchases on ONESHOP, whilst stocks last.  
Snap & Step into Christmas Contest @ 1 Utama  (25 Nov – 28 Dec) – Share enchanting photos  and videos of 1 Utama's Christmas decorations and participate in either 1 Utama's TikTok OR  Instagram contest to win amazing prizes from  Dyson and Caudalie.
For more details on 1 Utama's Christmas events and promotions, contact the Customer Service Centre at Tel: 03-7710 8118 or check updates on 1 Utama's Facebook and Instagram pages.