Although this Chinese New Year will be less festive as Malaysians might still be stuck inside their homes due to the Movement Control Order (MCO), Malaysians can still celebrate the Chinese New Year from their homes with these 5 special delicious meals that can be delivered to your doorstep!
1. The Weekend Baker by Daryl
The Weekend Baker by Daryl specialises in BBC (Basque Burnt Cheesecakes) and are famous for their alcoholic flavours as well as Japanese tea flavours which are baked with premium tea powder from Niko Neko Matcha. With so many different flavours to choose from, you can get the "QUATTRO" – 4 flavours in 1 basque burnt cheesecake and get to taste all 4 flavours at the same price of only 1 whole 6" BBC.
For Chinese New Year they have new and exclusive releases such as their Signature Peranakan Pineapple Tart which is made with homemade pineapple jam and Golden Churn Butter! Definitely a great gift to send to your family and friends, or even get it for yourself!
2. TalkCrab
With their motto of 'Less crap, More crab', TalkCrab offers one of the most delicious and fresh crabs in Klang Valley at an affordable price. They not only offer crabs but they have delicious side dishes including baby octopus, tiger prawns, and mantis prawns.
TalkCrab currently offers six preparation styles for its crabs, including their popular signature buttermilk, fiery black pepper, classic golden salted egg yolk, spicy specialty chili, super kam heong, and salt & pepper.
For Chinese New Year, they're offering two new sets, Fortune Bucket and Prosperity Bucket which can cater from 2 people up to 6 people. So if you're looking for a seafood party for Chinese New Year at home, you can order the Chinese New Year sets which come with a wide variety of seafood such as the signature crabs, tiger prawns, octopus as well as yummy mantaos!
3. art of salmó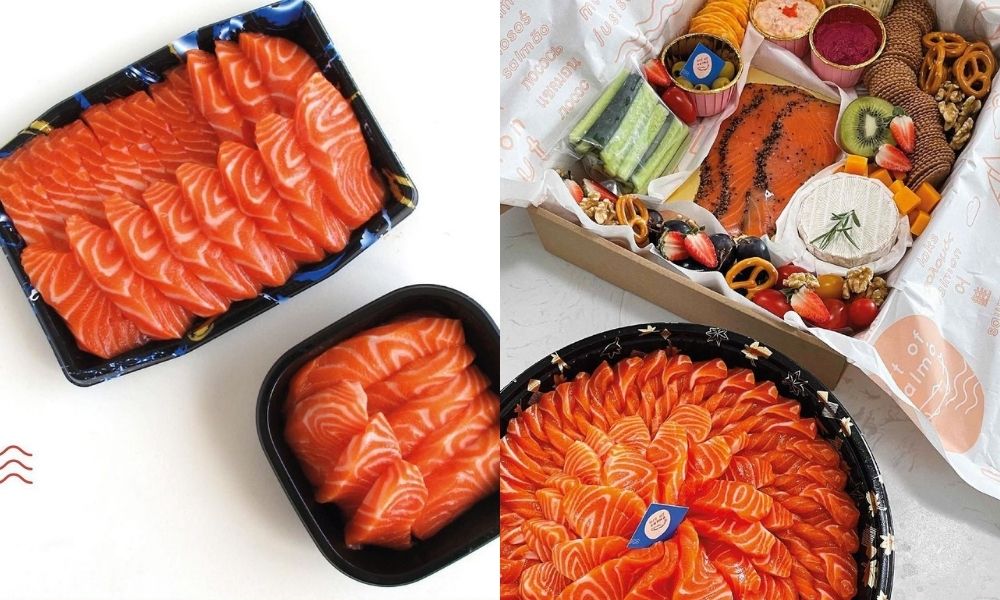 art of salmó is Malaysia's first online store to specialise in fjord trout delivery, basically they specialise in delivering fresh sashimi-grade fjord trout straight from Norway to your doorstep. They currently offer delivery to certain areas of Klang Valley, Penang and Johor (you can check the delivery areas here).
For Chinese New Year, they are offering a yee sang set which comes with fresh sashimi-grade fjord trout with special yuzu dressing at RM88.80, perfect for 4-6 people. Do note that it's encouraged to pre-order in advance as to guarantee freshness it takes two days for the fish to arrive in Malaysia from the time of harvest in Norway, upon which they will immediately be delivered to customers.
4. Xiao by crustz
Xiao by crustz is an online based patisserie that provides delicious cakes, desserts and pastries. Their services includes regular sweet treats but also gift boxes perfect for the festivities and even dessert tables!
For Chinese New Year, they've launched their Petit Gâteau which means "small cake" in French that has a collection of their brand new CNY cakes including a special Koi-shaped Petit Gâteau. For their normal menu, it can vary from week to week but may include the likes of croissants, madeleines, pain au chocolat, danishes, scones, quiches, and many more.
5) The Oven Fairy
Famous for their cream cheese garlic bread and cream puffs, The Oven Fairy is also having a special sale for this Chinese New Year with goodies such as yummy nori crackers!
Even though we won't be able to go out to celebrate Chinese New Year this year, we still can celebrate it at home with our families with the many delicious food delivery options above!
Feature Photo Credit: The Weekend Baker by Daryl / The Oven Fairy